Living on a 2.5 acre organic farm in southeastern  Massachusetts,  growing and preserving food and cooking is  largely my life.  I recently realized that most of my songs have some reference to food or eating so I've decided to start sharing my recipes.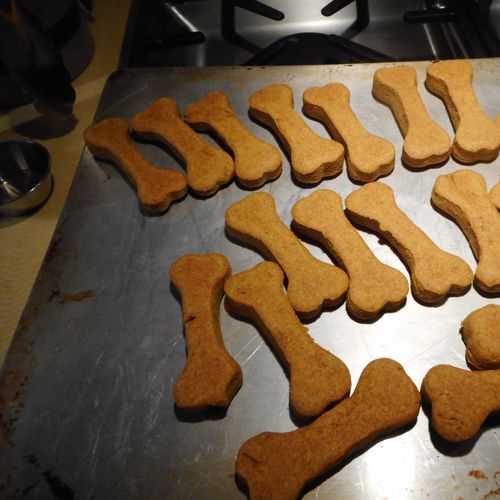 Easy Dog Cookies
I was baking these tonight, Molly woke up from a sleep and came to sit by the oven.       
350°
2 ½ C. Flour
½ C. Pumpkin  
2 Tbls. Peanut Butter  
1/2 tsp Salt  
2 Eggs  
Mix the flour and salt together in a big bowl and then add the pumpkin, peanut butter, and eggs.  (Should you need more liquid add a Tbls.  of your choice of milk.)  Pull together in a ball and roll out onto a lightly flour coated surface.  Roll to the desired thickness - I go about 1/2".  Cut with your favorite cookie cutter.  Line a baking sheet with parchment paper. Parchment paper is the best medium to avoid overcooking or burning and it does not need to be greased.  Bake at 350° 20 minutes on each side.
Ingredient Substitutions:   
Pumpkin:  If you don't have pumpkin experiment with something of the same texture: a winter squash, mushed and very well drained zucchini, applesauce, or cooked and mashed carrots   
Peanut Butter:  If you don't want to use peanut butter, try tahini or almond butter.   
Eggs:  You can replace 2 eggs with 2 Tbls.  ground flax seed and 6 Tbls. water - let set for 5 minutes before mixing with the other ingredients.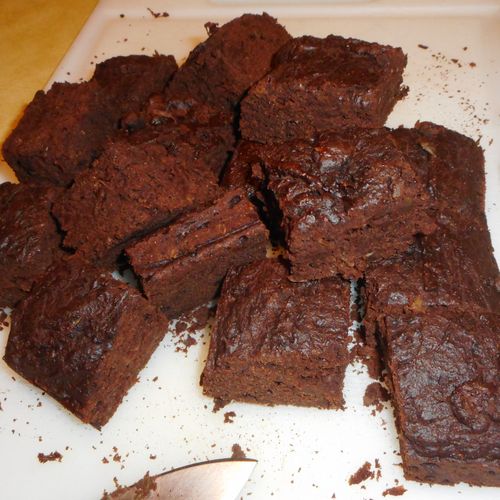 Super Moist Dark Chocolate Zucchini Brownies
350°, 25 -30 minutes, 8"square pan
Wet ingredients:
2 C. Grated Zucchini (if using frozen do not drain)
½ C. Olive Oil
1/3 C. Honey
2 Eggs
1 tsp. Vanilla
Dry ingredients:
1 C. Whole Wheat Flour
¾ C. Spelt Flour
¾ C. Unsweetened Coco Powder
½ tsp. Salt
1 ½ tsp. Baking Powder
½ tsp.  Cinnamon
** adding chocolate bits, shredded coconut, or nuts optional but increases the calories. 
Before starting, preheat oven and grease 8" square pan.  I put a layer of wax paper on the bottom of the pan and that peels off easily when the brownies have cooled
Mix wet ingredients and dry ingredients in separate bowls.  The wet ingredients will be lumpy due to the grated zucchini.  Blend (by hand) the dry ingredients into the wet and carefully fold – do not beat.  When evenly mixed scoop into the square pan and bake.  This is a very moist recipe and product is very rich.
Test for doneness by inserting wooden toothpick near the center and if it comes out clean it's done + the smell test - your kitchen should be infused with the smell of chocolate... No smell-not done!
Best cutting knife: serrated edge knife
Storage: Brownie is very moist keep in refrigerator or freezer.